Deer Widow's Night Out Thursday, October 22.
---
Hail Heroes!
Heroes Realm will be participating in Deer Widow's Night Out, Thursday, October 22nd. from 5-8 pm.
We will have the following specials for all shoppers, male and female:
*20% off any board game, sword or knife
*For kids or Christmas, all Pokémon, Yugioh packs, buy 2 get 1 FREE
Limited Mary Kay Inventory on table 40% off.
See you shoppers Thursday night.
Originally posted by Heroes Realm via Locable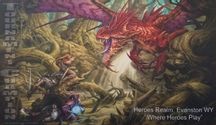 Heroes Realm
1033 Main St.
Evanston, WY 82930
307-679-5226