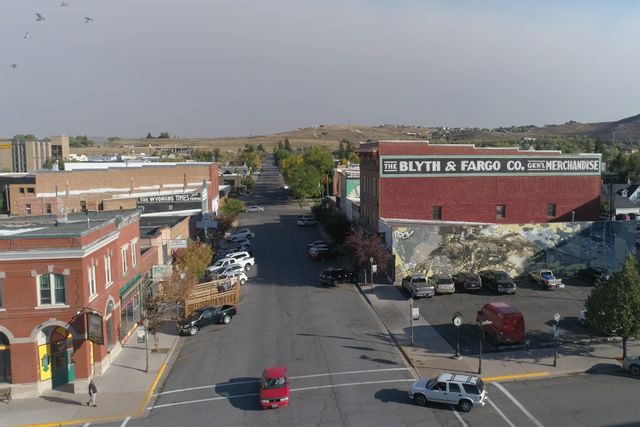 Evanston Main Street
Mission Statement: Evanston Urban Renewal/Main Street promotes a vibrant downtown to live, work, shop and play through preservation and revitalization. 
In 1982, a group of citizens came to City Hall and said "something needs to be done with downtown!" Looking at state statutes, the City had two choices, either a Downtown Development Authority or an Urban Renewal Agency.  They chose the latter and Evanston Urban Renewal Agency was born. In 1987, Jim Davis was hired as the new URA Director and with no experience with downtown revitalization, Jim wasn't quite sure how to do his new job!  Then, he received a brochure about a workshop on the Main Street Four Point Approach, and off he went to Miami.  That was the beginning of Main Street in Evanston, Wyoming.  Jim followed the Four Point Approach and in 1999, Jane Law joined Jim's team and in 2006, Jane was named the Urban Renewal Coordinator, while Jim went on to be the City's Clerk and worked on economic development.  In 2007, URA was asked to submit an application to Wyoming Main Street to be grandfathered in as a certified Wyoming Main Street Community.  In early 2008, Governor Fruedenthal came to Evanston and welcomed Evanston into the program as a certified community.
Our Story
In 1969, downtown Evanston was referred to as a "godforsaken hole". There were no street lights, no trees, 55-gallon oil drums were the garbage cans around town, few restaurants, a couple of bars.  A dark, dingly, blighted area.   After Jim Davis attended that Main Street Workshop in 1988, things started to change in downtown Evanston.  For 37 years the Urban Renewal Ball fundraiser has been held for the purpose of preservation and revitalization efforts in the downtown and the Historic Roundhouse and Railyards site.  In that time, over $1.6 million dollars have been raised, with large contributors such as Chevron USA, BP, and Rocky Mountain Power/Pacific Power.  That funding has been used as seed money for projects and initiatives, as well as match money for large grants the URA/Main Street has been awarded over the years. 
Design and preservation projects have been the most transformative for Evanston's Main Street District which includes a historic district.  The first big preservation project was the rehabilitation and restoration of Depot Square.  Two blocks of blight the Union Pacific donated to the City of Evanston in 1987.  Today the Square boasts a fully restored Depot, to celebrate our Chinese heritage, a replica of the original Chinese Joss House, a Chinese Gazebo, and Garden. 
Other major design projects have made downtown the inviting place it is today.  A major improvement was the installation of Sternberg lights, downtown no longer dark.  Next, trees were planted, benches and decorative benches were added, then new street poles and street signs along with lots of beautiful flowers.  New services and retail businesses opened, other buildings were rehabilitated, new restaurants and bars opened, downtown today is a vibrant place to live, work, shop, and play.
That was followed with the stabilization and preservation of the 22 acre Evanston Railroad Complex.  (Evanston Roundhouse and Railyards). The site includes a fully restored Machine Shop, fully revitalized Section 1 of the Roundhouse and rehabilitated and secure Sections 2-4, the Oil House has been rehabbed and transformed into the Patterson Visitor Center, the Superintendent's Office is now a meeting space and in 2010 the working turntable was renovated.  (One of the few left between Omaha and Sacramento on the UP line).  
Other major projects downtown include Hotel Evanston and The Strand Theatre.  The Hotel was saved and rehabilitation work was done to secure the building: a new roof, new windows and restored windows, masonry work including repair, replacement, cleaning, and being repointed was done, and a new storefront was installed.  The Strand suffered a tragic fire in 2007, was donated to the URA/MS in 2008,  and has been a huge rehabilitation project, but the lights went on and the doors opened in ????? The project is a work in progress but does allow for movies, parties, plays, concerts, etc.  
It can be said, that life changed for Evanston when the City created the Urban Renewal Agency and then changed again in 2008 when Evanston became a certified Main Street community, giving the organization a new name, Evanston URA/Main Street and access to a network of resources and support to continue to grow.  
The URA/MS program has brought excitement to the downtown, not only has it changed in looks, but excited business owners and brought younger people to start businesses and buy historic buildings.  Downtown is an inviting and welcoming place. 
All these efforts have created a unique culture of people giving, respecting their history and knowing that through their gifts of money and time, they can make a difference in their community.   
In both 2019 and 2020, Evanston was recognized as a Great American Main Street Award Semifinalist for their many years of practicing the Main Street Four Point Approach, preservation, and revitalization efforts.
Our Certifications & Awards
Brenda Richins - Wyoming Main Street Innovation Award - 2019
Ivory & Iron - Wyoming Main Street - 2018 
Fred Coles, former board member, Wyoming Main Street Volunteer of the Year - 2013
US EPA Region VIII Excellence Award in recognition of perfect bacteriological compliance - 2001-2005
Preserve Wyoming Certified Local Government Award - 2011
Spirit of Service Award presented to Evanston Renewal Ball      Volunteers -2008
Wyoming Main Street Innovation Award - 2012
Certified/Accredited Main Street Community since 2008 (yearly since 2008)
Named a Great American Main Street Award Semifinalist for 2019 and 2020
Education/Training is ongoing...Attendance at Wyoming Best Practices Workshop
Attendance at National Main Street Conference
Attendance at Wyoming Main Street Monthly meetings/trainings
Attendance at state Preserve Wyoming conference
Attendance at Wyoming Economic Development Association conferences
Transformation Strategies with Matt Wagner, National Main Street Center & Linda Klinck, Wyoming Main Street Program Director
Strategic Doing with Darrin Wasniewski
Attendance and hosted a Jon Schallert Workshop